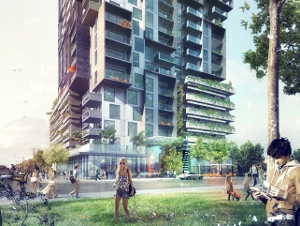 The South Australian Development Assessment Commission has given approval for a $105 million apartment building to be developed by Star Fish Developments in Adelaide's West End.
Bohem will consist of 220 apartments and the building will feature exterior hanging gardens including a 22m vertical garden as a major design element of the building. There will also be a podium level rooftop garden with a pool, gym and barbeque area.
Architects Woods Bagot and South Australian Enzo Caroscio were responsible for the design.
Star Fish managing director, Damon Nagel says, "Adelaide's West End is a fusion of cultures and styles and this is reflected in Bohem's deign which brings together various design elements, scaled heights and setbacks, and exterior finishes and materials."