Developments
Construction starts on $1.4bn Surfers Paradise project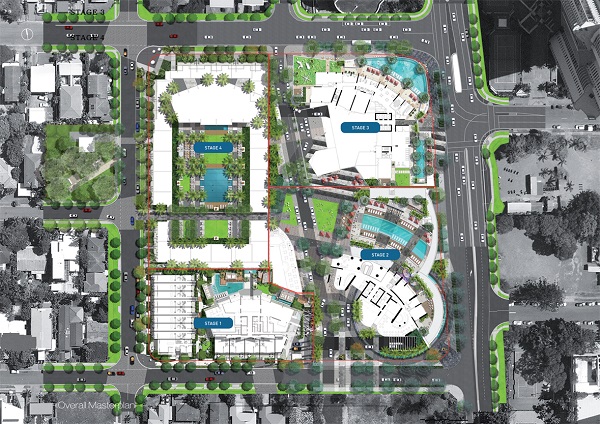 Gold Coast City Mayor Tom Tate today turned the sod on the first stage of developer The Ralan Group's new Ruby development, which will become the first multi-tower masterplanned community to be delivered in Surfers Paradise, potentially spanning an entire city block.
The first stage is being developed on the corner of Norfolk and Oak Avenues adjacent to the existing Paradise Resort, and will comprise 228 Apartments in a 30 storey building, along with 13 two level attached dwellings and extensive road upgrades and landscaping.
Construction of the first stage is expected to be completed by the end of 2017, paving the way for work to start on the next phase of Ruby – comprising stages two, three and four.
The second tower will feature 477 Apartments in a 60 storey building in tandem with a laneway complete with 1,760sqm of family-friendly restaurants and shops, along with a village green offering space for events and the display of innovative public art.
Gold Coast City Council is currently assessing an application for the third stage, which will deliver 489 apartments in a 47 storey building, a second laneway and village green incorporating a 2,543sqm shopping precinct and a 'podium playground' including an activity centre with an ice skating rink, laser tag and climbing wall.
The fourth and final stage is also before Council, including 406 apartments across 32 storeys, in conjunction with 358sqm of retail, landscaped areas and pedestrian connections.
If all stages are approved it would see the Ruby project become a new neighbourhood centre, bounded by Norfolk, Oak and Birt Avenues and the Gold Coast Highway.
The Ralan Group managing director William O'Dwyer said: "The Mayor and the Gold Coast City Council have created an environment which encourages developers such as Ralan to invest heavily in this city and for that they should be congratulated."