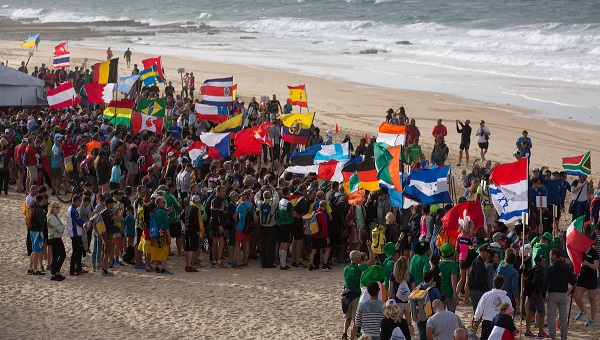 The Sunshine Coast's "best ever year" for major events has wrapped up with the successful staging of Wanderlust.
Sunshine Coast Council's Tourism, Sport and Major Events Portfolio Councillor Jason OPray said that 2016 had been an unprecedented year for major events, with the region hosting 60 major and regional events.
"It's been an amazing year for the Coast in terms of major events, where we have literally welcomed the world to our region," Cr OPray said.
"More than 150,000 guests from 70 different countries have come to participate in a diverse range of state, national and international lifestyle, sporting and music events.
"And many of these guests stayed on to experience our beautiful surrounds and great hospitality and were enticed to visit again as tourists.
"We estimate these events have generated almost $100 million in economic contribution to the region, with a wide range of businesses throughout the Coast having benefited from the staging of these events.
"Accommodation providers, cafes and restaurants, hire car companies, sporting good providers, travel agents, event staging companies and even masseuses are just some of the diverse types of local businesses who have profited from the economic contribution these events bring.
"Our region's reputation to stage national and international events was also reinforced by accolades from the organisers of the Australian Surf Life Saving Championship, Va'a World Outrigger Sprint Championship, Ironman 70.3 World Championships and Australasian Police and Emergency Services Games, who hailed their events held on the Coast, as the best ever.
"This is a testament to the friendly and welcoming nature of our community who rolled out the welcome mat to our guests and ensured they had an enjoyable and memorable event experience.
"Our region was also showcased to a worldwide audience through live streaming of the events, social media sharing of participant images and experiences and traditional media coverage.
"For the Ironman 70.3 World Championship alone, more than 2.4 million minutes of live stream footage of our region was broadcast to a worldwide audience and more than 10,000 images of the Sunshine Coast were shared through social media.
"This showcasing of the region, alongside the positive testimony of event participants and their guests, is a great ad for our region and a strong driver for future tourist visitation."
Simon Latchford, CEO of Visit Sunshine Coast (VSC) said successfully staging a massive portfolio of events throughout 2016 had elevated the region's tourism reputation.
"Working as a team with council, VSC, tourism operators and our community – we have demonstrated as a region our capability to warmly welcome and successfully stage an impressive line-up of small and large scale events throughout the year," Mr Latchford said.
"Estimates indicate an additional 150,000 national and international visitors from more than 70 countries have visited the Sunshine Coast due to an event during 2016.
"We believe the impact to be far greater in publicity and driving repeat visitation for future years."
Major Event Fast Facts
Australian Surf Life Saving Championship: April 16 – 24
·         Hailed as the "Best Ever Aussies" by Australian Surf Life Saving president Graham Ford
·         Attended by 7,000 competitors and approximately 22,000 spectators
·         Estimated contribution of $20 million to the local economy
Va'a World Outrigger Sprint Championship: May 5 – 15
·         Hailed as the "Best Ever Outriggers" by Va'a International Federation of Outriggers
·         Attended by 2,500 competitors from 24 countries, approximately 2,000 local spectators
·         Estimated contribution of $15 million to the local economy
·         Many respondents commented on the "buzz" of the atmosphere, the great people, the welcoming Aussie hosts and volunteers, and feeling of friendliness
·         After the event AOCRA was invited to submit a bid to host the 2019 World Outrigger Marathon Championships on the Sunshine Coast, which it successfully won
Queensland Garden Expo: July 18 – 20
·         Attended by 40,000 guests – making it the largest ever crowd for the event
·         There was an increase in visitors of more than 10% on 2015
IRONMAN 70.3 World Championships: September 4
·         Hailed as one of the best ever World Championships by the Ironman organisation
·         3000 athletes from 70 countries
·         Estimated contribution of $15 million to the local economy
·         Additional four guests staying for an average one week, estimated 35,000 visitor nights
·         25,000 spectators in Mooloolaba on the day
Australasian Police and Emergency Services Games: October 8 – 15
·         "Most successful Games held …. has set a benchmark for the Games Federation to strive for and better …" Greg Croft Assistant Games Manager
·         Attended by 2,700 athletes who competed in 49 sports
·         Estimated contribution of $8 million to the local economy
Wanderlust: October 20 – 23
·         Attended by 2,900 mostly interstate visitors
·         Figures up by 53% from last year
·         "It's been great, we get nothing but support here on the Sunshine Coast," Jonnie Halstead Wanderlust Director