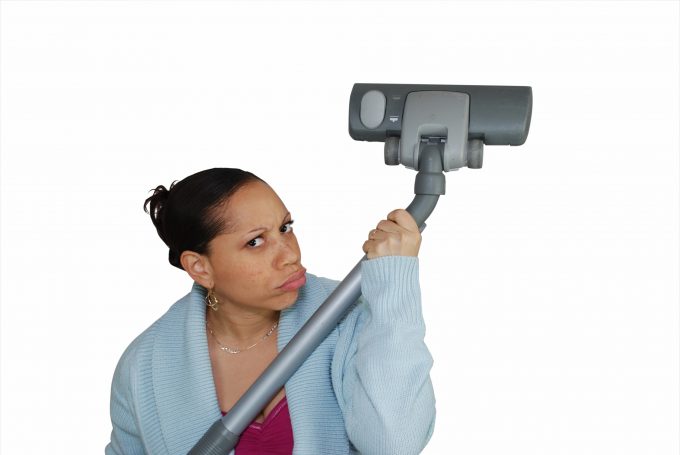 A good housekeeper is the industry's unsung hero. In a Spaghetti Western movie, they'd be the sheriff in town.
Your housekeeper must be committed to cleaning up your town – you need a bad-ass who will rid your property of scum, mess, filth and the foul stench of mediocrity. So, if you want your housekeeper to scare away nasty, stinkin' germs, you need to make sure they have arsenal of lethal cleaning weapons on hand.
The biggest gun of all in a cleaning arsenal is the commercial vacuum. If your property was a saloon bar, you wouldn't be too fussy about a bit of "spit and sawdust" on the floor, but a sparkling clean floor in a modern accommodation property is an absolute must.
A dirty floor is a huge turnoff for guests: an immediate red flag that accom staff don't care. It also poses a health risk for visitors.
Studies have shown that a carpet serves as a magnet for all kinds of pollutants, contaminants, bacteria, and odours, including the possibility of nasties such as fleas, cockroach eggs, and dust mites.
A suitable 'big gun' commercial vacuum must be provided because regular vacuuming is key to any healthy, fresh and clean environment. An investment in the best quality and most suitable carpet cleaning equipment for your floor will also prevent wear and tear and prolong the longevity of your carpets, proving cost effective.
The good, the bad and the ugly
Raw power… Motor power might be the most obvious choice for a vacuum cleaner, but commercial vacuum experts claim that a strong design is often the most important feature to consider.
Quality… Never overlook the most basic machine parts of the vacuum: the strength of wheels, clips, and other plastic mouldings. No matter how much power it delivers or how good its air flow, a vacuum cleaner will not be any use if it's out of action because its wheel falls off!
Uprights… May also be more effective in large open spaces such as function rooms, whereas they may be less suited to stairways or small guest rooms, due to weight, size, and manoeuvrability.
Canister… May not be quite as powerful (although their power has improved) but are lighter, more manoeuvrable and may be better suited to the size and space of your accommodation rooms.
Backpack models… These are very worker-friendly for stairs, but they must be frequently emptied. Recent versions promise increased productivity and remember they are more ergonomically friendly.
Cordless and rechargeable… These have the advantage of being able to go anywhere without the hazard of a trailing cord. However, they must be recharged often and have a limited user time.
Consider noise… Listen before you buy because an annoyingly high pitch vacuum can claim a low decibel rating on the sticker or brochure.
Filtration… Large and easy to clean filters equals simple maintenance and consistent performance. TIP: most commercial vacuums can be used bagless but always use a bag or you will have to replace (costly) filters more regularly. 
A HEPA (high efficiency particulate arresting) filter will effectively remove dust, irritants, mites and filter to produce clean air. These offer efficient filtration to help remove the sources of irritation that cause allergies and asthma.
Hot water extraction… Think about an extension to normal vacuum cleaning, ask your supplier the advantages of including a hot water extraction system to your arsenal.
Automated vacuum cleaners… Predicted to be one of the biggest and most exciting housekeeping technological developments. A handy cleaning solution with smart features such as mapping out the room with in-built cameras, remote controls, and virtual wall features, blocking off areas you don't want to be cleaned.
Attachments… The most effective vacuum cleaners do not just get their super power from a motor, but also from the variety of attachments offered.
Your choice of vacuum directly impacts your room turnaround time and for fast paced accommodations it is crucial to get it right.
There is a vacuum for every need so select the most reliable and effective cleaning weapon: one that can reduce costs, boost energy savings, enhance staff/guest safety, and increase productivity.
In the words of badass Clint Eastwood in The Good, the Bad and the Ugly: "There are two types of people my friend, those with loaded guns and those who dig."
So make sure you get your loaded gun!
Tim Edmondson, managing director from Edco Cleaning Products, offers his expert opinion:
What are your tips for choosing the best commercial vacuum for the job?
"Analyse. Look at the total area you need to clean, the time you have to clean that area, any obstructions or safety issues you need to consider. Once you've assessed what you want to achieve, talk to your equipment provider and work on a plan. It may involve a mix of machines for different areas or jobs."
Backpack, canister or upright?
"Uprights do a great job on deep carpets and in smaller areas – but they can be difficult when trying to access confined spaces and have smaller dust retention capacity.
"Canisters are the 'jack of all trades'; higher volumes for longer cleaning, increased manoeuvrability and the best ones are just about bullet proof.
"Backpacks are fantastic where there are large areas to clean, lots of obstructions to get around such as desks, chairs etc.
"You also need to consider if you need corded or battery machines. Battery machines are becoming essential if you're looking to minimise OHS issues for staff and customers, avoiding dangerous cord trip hazards at entrance ways for guests and staff. Simply changing to a battery vacuum for these operations could remove massive risk from an insurance perspective."
What (in your opinion) are the best filtration systems?
"Users need to choose the right filtration level for their desired outcome. Remember, just because a machine has a HEPA filter that is not a true indication that the machine itself is actually trapping all small particles.
"Talk to your supplier about the machine's HEPA rating and what you're trying to achieve. There's simple solutions for all desired outcomes."
What are the most environmentally friendly choices around?
"The lower the wattage – the less power you use! The other consideration is the lifespan of a vacuum."
What are the latest models, and do you foresee any future industry trends?
"The big change we're seeing is the growth in the battery machine market. They can provide users with massive time savings and labour. Being the single highest cost for most housekeepers and cleaners, these units can pay for themselves in labour savings within months.
"The other trend is the reduction in power usage for corded models."
What should purchasers look for when assessing the quality/longevity of a vacuum?
"The first clue is the warranty. Furthermore, talk to the manufacturer and tell them what you want to achieve. Don't choose based on the ticket price, do your analysis and calculate the cost over the life of the machine. The true value of a machine is more than just the ticket price – it's the cost of power consumption, repair downtime, replacement frequency and of course the performance."