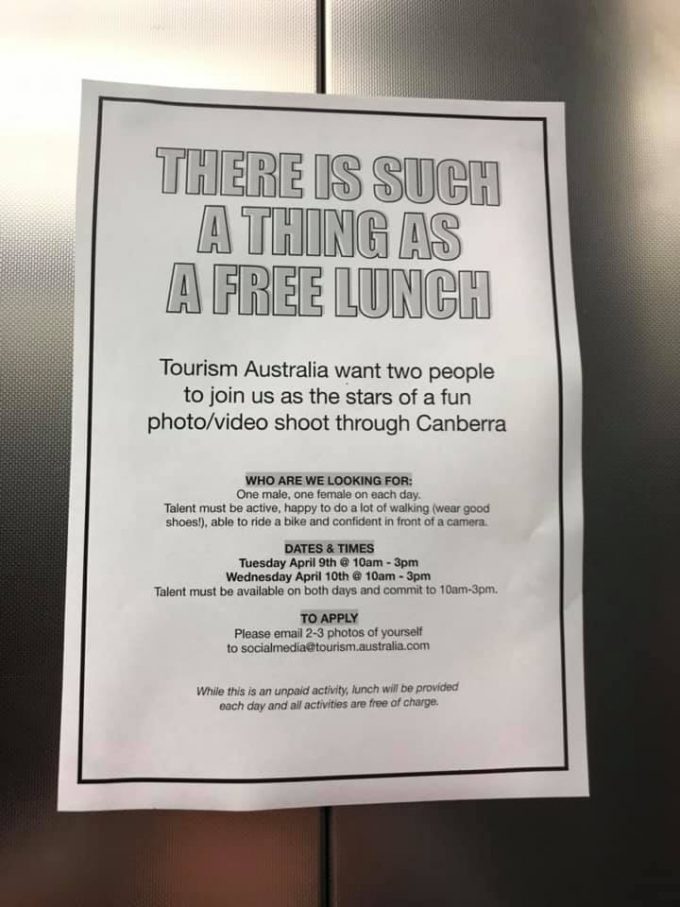 Tourism Australia sparked a social media storm when it advertised for photo shoot models – with the only payment being a free lunch.
The job listing, displayed in a Canberra youth hostel, encouraged candidates to apply for two positions in a promotional shoot taking place around the city.
Under the title 'There is such thing as a free lunch', the advert said: "Tourism Australia want two people to join us as the stars of a fun photo/video shoot through Canberra.
"Talent must be active, happy to do a lot of walking (wear good shoes!), able to ride a bike and confident in front of a camera.
"While this in an unpaid activity, lunch will be provided each day and all activities are free of charge."
The Media Entertainment and Arts Alliance shared the listing on Twitter and Facebook under the caption: "Does ten hours' work for a free lunch sound like a fair deal?"
A Tourism Australia spokesperson told Daily Mail Australia the poster did not reflect the organisation's usual practices and was removed as soon as management learned of its existence.
"The request is certainly not in line with our normal social media team practice and was a one-off mistake," he said.
"It has been our long-held practice that talent involved in shoots are paid for their work."
The post prompted a speedy reaction online, with comments including: "How generous of them not to charge the talent to partake in the activities" and "absolutely unfair and un-Australian".
One person quipped: "Can you let me know what the lunch is? I'll talk to my bank and see if I can pass on the free lunch instead of my mortgage payment."
Tourism Australia confirmed they did not receive any applications from the listing, which aimed to attract recruits for a youth-focused campaign highlighting local tourism experiences.