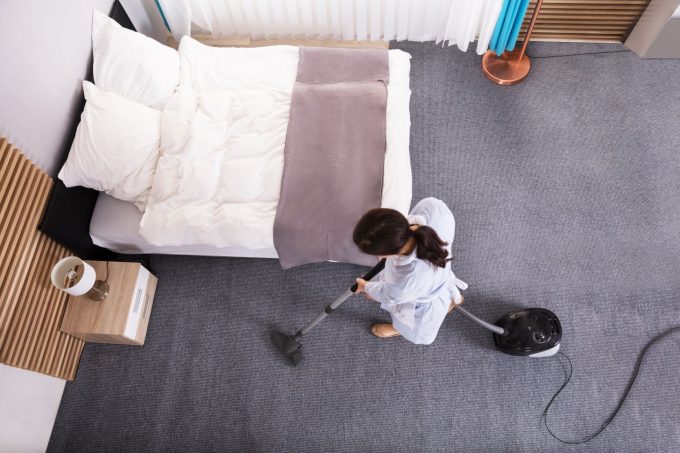 A former housekeeper has revealed shocking cleaning standards at a luxury Melbourne hotel.
The woman told the ABC she would never stay at a hotel again after cleaning rooms at the undisclosed five-star property and other hotels around Australia.
The housekeeper, identified as 19-year-old Vee, told the national broadcaster it is common for hand towels to be used to clean toilet bowls, for bedding to be left unwashed and for cleaning jobs to be rushed.  
And she has advised travellers to bring their own towels, even if the ones provided look clean.   
"When you always visit five-star hotels, you think you are getting the best services, clean linen and everything," she told ABC News.
"But when you actually go behind the scenes to do the work, you realise that not everything goes as you expect." 
The revelations come five months after secret filming revealed sub-standard cleaning practices at a number of luxury international hotels in China.
Eleven of the 14 hotels featured in the video were forced to apologise after footage posted online showed cleaners using dirty guest towels to wipe down cups and sinks and, in some cases, the same towel used to clean the toilet.
The 11-minute video showed cleaning staff washing cups and mugs with the same sponge used to wipe down the shower and sink, the filmmaker also highlighting a cleaner washing dishes with a cloth that had been stored next to a used toilet brush.
A survey in 2010 by the then Liquor, Hospitality and Miscellaneous Workers' Union concluded seven of the top Melbourne hotels had a "hygiene crisis" because staff were not given enough time to clean properly.
The union revealed rooms had dirty toilets, mouldy showers and bathrooms, stained mattresses and infectious bacteria, findings reflected in a 2015 report by hotel website Oyster which identified hotel mugs and glasses, light switches and remote controls as breeding grounds for bacteria, including E.coli.
The Melbourne cleaner says housekeepers are being rushed from room to room and do not have enough time to clean properly, reflections corroborated by other local sources, according to the ABC.
Cleaners and advocacy groups say with dirty rooms are the consequence of an industry in which workers are routinely underpaid and overworked.
Helen Alvarez told Quora: "I work as a housekeeper in W Hotel in the centre of London. It's a luxury 5-star hotel. We have to make 14 rooms during 8-hour working day….This includes a long checklist from cleaning mirrors to arranging stationery. It's a very difficult job and requires more than 30 minutes to be made without mistakes and leave housekeepers happy.
"Our housekeepers with 14 rooms daily feel mad, exhausted, tired and unhappy at the end of each day."
Another contributor, who wrote on Quora under anonymity, said: "30 minutes is a reasonable time for a double/twin standard room with toilet. That should make quality and quantity well together and balanced as possible. But i have been forced to finish the job in less than 15 minutes, taking me to extreme stress and burn out."
A 2016 inquiry by the Fair Work Ombudsman found housekeepers working at four and five-star hotels in Brisbane, Sydney and Melbourne were routinely underpaid, many of them international students and backpackers on working holiday visas.
Sarah Kaine, a workplace relations expert from the University of Technology Sydney's Business School, told the ABC: "A workforce made up of predominately women, often non-English speakers, often relatively low-skilled, is kind of your perfect storm for exploitation, for the skirting of industrial conditions."
However, United Voice, the union representing hospitality workers in Australia, says a new industry-led Cleaning Accountability Framework (CAF) launched last month will help enforce ethical labour practices which will drive better pay and conditions across the industry.
"What is so exciting about CAF is that it will reset the floor in a sector that for too long has been engaged in a race to the bottom," said the union's national secretary Jo-anne Schofield.
"Cleaners working in CAF-certified buildings will have respect and rights at work through decent work, fair pay, job security, safe working conditions, and very importantly, a voice at work for a hidden workforce."
Schofield says the framework will lead to better working conditions, more responsible procurement practices for cleaning contractors, and reduced financial, legal and reputational risk for property owners and investors.
A new national advisory board for employment launched in April by the Australian Accommodation of Australia will meanwhile support and encourage better training for housekeeping staff.