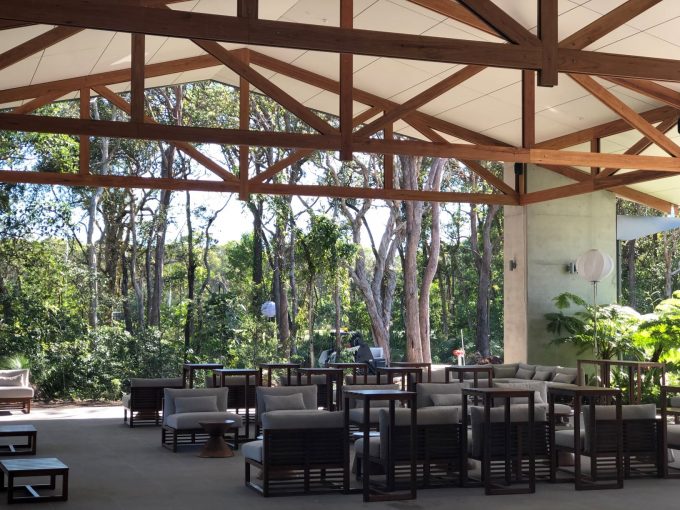 The first visitors to inspect the $10 million Sunshine Coast Convention Centre on its opening this week were a mob of curious kangaroos.
Positioned in the grounds of the Novotel Twin Waters Resort, the facility sits among a stunning bush landscape favoured by local wildlife as a peaceful hangout.
It is a setting which, according to Visit Sunshine Coast chief executive Simon Latchford is already marking the state-of-the art facility apart from its rivals.
"You don't get an authentic experience like this with other conference centres," he said. "You can be in Boston or Melbourne and once you're there, it makes no difference.
"Here we have kangaroos out front, a river over there, the beach and bush as well.
"There's been an unprecedented amount of interest in holding events here. It's really, really exciting."
The Chinese-owned Shakespeare Property Group, which bought the property in September 2018 for $100 million, embarked on the ambitious build with input from the region's tourism leaders and the resort and centre's managing group, AccorHotels.
It features six meeting and event spaces across 3300sqm, including a stunning covered outdoor meeting place. The new-built Minyama room caters for up to 1,500 delegates and coordinates with the resort's existing Wandiny Pavilion conference space, taking the convention centre's overall capacity to 2,700.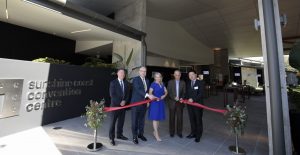 Queensland tourism minster Kate Jones opened the facility this week alongside Sunshine Coast Mayor Mark Jamieson, Shakespeare Property Group managing director Yak Yong Quek and Accor's Pacific chief operating officer Simon McGrath. 
Ms Jones described it as a game-changer for the region, telling the Shakespeare Group: "On behalf of the Queensland government we say thank you so much for your confidence and your investment.
"And what more picturesque and beautiful day to have this official opening, with this magnificent backdrop, which I hazard a guess you couldn't get in any other convention centre anywhere else in the world.
"This centre has enough capacity to house 200 trade stands at once. It will be instrumental in securing events the Sunshine Coast has never been able to host in the past.
"With the expansion of the Sunshine Coast airport and millions of dollars in new tourism infrastructure developments under way, the local tourism industry is booming."
Shakespeare Property Group have set a goal of increasing delegate numbers to the new convention centre by 30 per cent within two years,  managing director Yak Yong Quek revealing the company is planning more upgrades to the resort.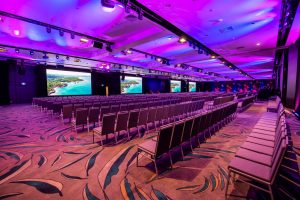 "To complement the delivery of this state-of-the-art convention centre we have also committed to extensive upgrading of the hotel lobby, food and beverage facilities.
"This upgrade will not only benefit our guests to the resort, but will create opportunities for the local economy and the community through employment and superior facilities to be enjoyed by all.
"This next phase continues to be supportive of our broader vision to create fresh opportunities for the economic and cultural growth of the community and our partnership with Accor will ensure the delivery of this vision."
Accor Chief Operating Officer Pacific, Simon McGrath said, "We look forward to continuing our successful partnership with Shakespeare Property Group with the management of the Sunshine Coast Convention Centre at Novotel Twin Waters Resort.
"Importantly, as a tourism landmark its not about the resort singularly but its about the tourism sector widely and bringing the sector together, working with all the hotels in the region to make sure everybody benefits. 
"Accor has strong experience in operating convention centres and premium meeting spaces at home and abroad.
"We are confident that this new convention facility, supported by our strong network of hotels in Queensland's South East and beyond, will drive visitor growth to the Sunshine Coast, create jobs, support local businesses and deliver broader economic benefits to the region as a whole."