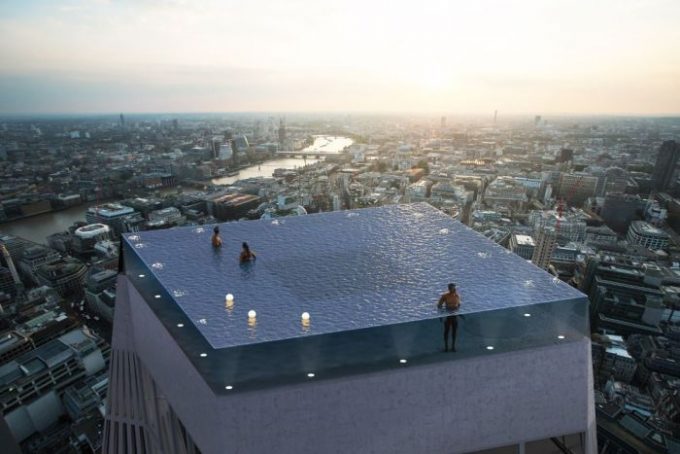 A luxury hotel skyscraper in London may be topped with the world's first 360-degree swimming pool.
According to designer Compass Pools, the oversized tub will offer panoramic views across the city from the 55-storey Infinity London building as part of a five-star hotel development which is yet to be branded.
Cutting-edge technology would allow swimmers to access the pool through a rotating spiral staircase based on the door of a submarine that rises from its floor.
Compass Pools said the 600,000-litre pool would see swimmers floating among the city skyline and provide a view to other guests of the five-story hotel below – through its partially transparent floor.
Other features would include a built-in anemometer to monitor wind speed, which links to a system that ensures the pool stays at a correct temperature and that water doesn't get blown off the top of the building. The water will be heated using waste energy from the building's air-conditioning system. 
Technical director for Compass Pools, Alex Kemsley, said: "Architects often come to us to design rooftop infinity pools, but rarely do we get a say in the building design because the pool is usually an afterthought.
"But on this project, we actually started with the pool design and essentially said, 'how do we put a building underneath this?'
"When we designed the pool, we wanted an uninterrupted view, both above and below the water.
"With a 360-degree view of London from 220 metres up, it really will be something else – but it's definitely not one for the acrophobic."
Asked about how he envisaged swimmers entering and exiting the water, Mr Kemsey said a simple ladder wouldn't cut it.
"The solution is based on the door of a submarine, coupled with a rotating spiral staircase which rises from the pool floor when someone wants to get in or out."
Construction is due to begin in 2020, with the building's location yet to be confirmed.
The Guardian newspaper's Will Jennings has questioned whether it will ever be built in the British capital, reporting Kemsley had told him that while London was the preferred location, Compass had entered talks for a similar project in Dubai following the proposal's media launch.