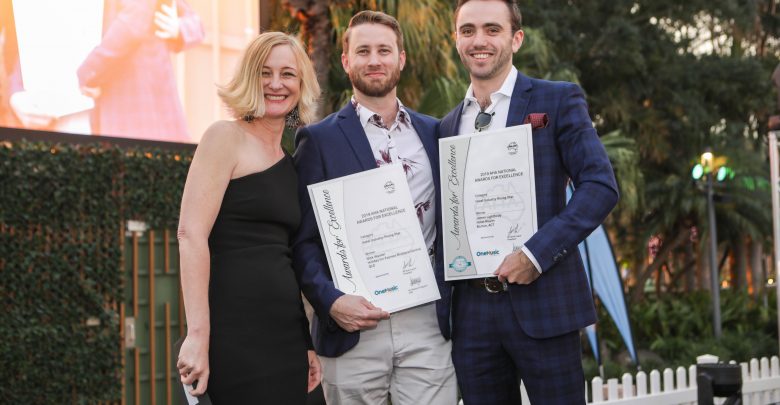 Two leading accom bodies toasted their star national performers this week at separate gala award ceremonies on the Gold Coast.
The best hotel staff and venues in Australia were honoured at the 2019 Australian Hotels Association National Awards for Excellence held at The Star on Monday.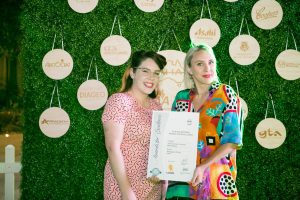 Sydney's Barangaroo House was named Overall Hotel of the Year (Metropolitan) while Tasmania's Shoreline Hotel took the Overall Hotel of the Year (Regional) title. Crown Towers Perth won Overall Hotel of the Year (Accommodation Division) and the Best Group Hotel Operator was won by the Sydney-based Feros Group.
There was a standing ovation for Tasmanian Hospitality Association President Paul Jubb, this year's National Hall of Fame recipient, and a moment of silence for industry icon Peter Burnett who died earlier this year.
AHA NSW and National President Scott Leach said the venues and their hardworking staff showcased the best of Australian tourism and hospitality to the world.
"Our national awards annually draw together the best venues of the year from right across Australia," he said.
"We are here to celebrate the outstanding individuals who drive our hotel businesses and make them the engine room of the Australian hospitality and tourism industries. I want to congratulate all finalists and winners on a job well done."
Mr Leach paid tribute to the efforts of Hall of Fame recipient Paul Jubb, a fourth-generation hotelier.
"This year's inductee is someone who has never forgotten that at our core we are an industry which serves," he said.
"He has always put the needs of others before his own. Whether that be his customers, his family or his fellow publicans. He is true publican and a very deserving inductee into the Hall of Fame."
Mr Leach also paid tribute to the late Peter Burnett, saying: "Peter made an undeniable contribution to our industry which has not just benefited us all – his efforts and achievements will echo through to the next generation, such was his impact and influence on our industry.
"We mourn the loss of Peter, as we honour his legacy."
Timeshare's stellar performers celebrated
The stars of Australia's $620 million timeshare and holiday ownership industry were meanwhile recognised at a gala dinner and awards night at the Novotel Surfers Paradise on Tuesday.
The awards cover 19 categories recognising the achievements of individuals, teams and companies.
Chair of the Australian Timeshare and Holiday Ownership Council (ATHOC), Ramy Filo, paid tribute to winners and nominees saying: "There is much to be proud of and this year's awards highlights the brilliance that shines across the timeshare and holiday ownership industry.
"We serve more than one million Australians each year and our industry is full of amazing talent who strive every day to bring joy to the many Australians who love their timeshare."
The ATHOC winners are:
Sales Performer of the Year – Upgrades, Benjamin Coombes, Wyndham Destinations Asia Pacific
Marketing Performer of the Year, Cameron Barry, Accor Vacation Club 
Resort Manager of the Year, Kyong Pang, The Sebel Sydney, Manly Beach | Accor Vacation Club
Corporate Manager of the Year, Lucas Ramos, DAE
Corporate Performer of the Year, Matt Coughran, Accor Vacation Club
Social Media Award, DAE Global Marketing Team
Marketing Team of the Year, DAE Global Marketing Team 
Resort of the Year, Wyndham Resort Denarau Island | Wyndham Destinations Asia Pacific
Innovation Program in the Field, RCI Pacific Member Journey
Corporate Team of the Year, DAE Leadership Team
Resort Performer of the Year, Nanor Shokayan, Accor Vacation Club 
Marketing Manager of the Year, Paula O'Gorman, Wyndham Destinations Asia Pacific
Sales Performer of the Year – Frontline, Ryan Princehorn, Wyndham Hotel Surfers Paradise|Wyndham Destinations Asia Pacific
Sales Team of the Year, Marriott Vacation Club at Surfers Paradise
Excellence in Customer Service, Sharon Norburn, Accor Vacation Club | Member Services 
Resort Team of the Year, The House Keeping Team, Mansfield Country Resort | Classic Holidays
Community Service of the Year, WYNDGreen, Wyndham Destinations Asia Pacific
Hall of Fame, Craig Wood, Accor Vacation Club
Outstanding Contribution to the Industry, Donna Borthwick, Wyndham Destinations Asia Pacific
The AHA winners are: 
Best Family Dining
Zagame's Boronia Club Hotel, VIC
Best Restaurant – Metropolitan
Wildflower at COMO The Treasury,WA
Best Restaurant – Accommodation Division
Hardy's Verandah Restaurant, Mount Lofty House, SA
Best Restaurant – Regional
Furneaux Restaurant, TAS
Best Marketed Hotel – Division
The Ramsgate Hotel, SA
Best Marketed Hotel – Accommodation Division
The Island Gold Coast, QLD
Best Meeting and Events Venue
Fairmont Resort & Spa Blue Mountains, MGallery by Sofitel, NSW
Best Suite/Apartment Hotel
East Hotel, ACT
Best Sporting Entertainment Venue
Hunters Hill Hotel, NSW
Best Environmental & Energy Efficiency Practice
Crowne Plaza Hunter Valley, NSW
Best Hotel Accommodation-General Division
Stirling Hotel, SA
Best Mid-Range Accommodation
Holiday Inn Melbourne on Flinders, VIC
Best Bistro – Regional
Shoreline Hotel, TAS
Best Bistro – Metropolitan
The Oaks, NSW
Best Entertainment Venue
Corner Hotel, VIC
Outstanding Community Service & Achievement
Vine Inn Barossa, SA
Best Superior Accommodation
Maylands Lodge, TAS
Best Outdoor/Non Enclosed Facility
Sandstone Point Hotel, QLD
Outstanding Achievement in Training
Grand Hyatt Melbourne, VIC
Best Redeveloped Hotel – General Division
The Court
Best Redeveloped Hotel – Accommodation Division
The Darling, The Star Gold Coast, QLD
Best Deluxe Accommodation
The Darling, The Star Gold Coast, QLD
Johnnie Walker Hall of Fame Award
Paul Jubb
Best Hotel Group Operator
Feros Group
Overall Hotel of the Year – Regional
Shoreline Hotel, TAS
Overall Hotel of the Year – Metropolitan
Barangaroo House, NSW
Overall Hotel of theYear – Accommodation Division
Crown Towers Perth, WA