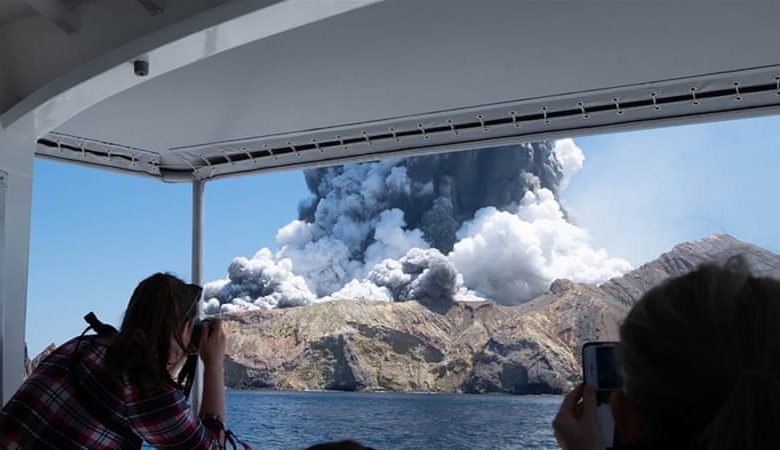 As authorities sought to retrieve the bodies of tourists from the volatile White Island volcano this week, New Zealand was reeling from a tragedy which has so far left six people dead, eight missing and 30 in hospital.
There were 47 people in total on the island, 38 of them passengers from the Ovation of the Seas cruise ship and many of them Australians, when the active volcano erupted on Monday afternoon.
Five bodies and 34 injured people and were retrieved in the immediate aftermath as cruise boat staff, helicopter crews and fellow tourists risked their lives to ferry victims, many badly burned, away from the danger zone.
Police say there are no further signs of life on the island, which lies 50km off the North Island coast, and have warned families to prepare for the worst as they await news of missing loved ones.
The missing and injured include tourists from the United States, Germany, China, Britain and Malaysia, along with Australians and New Zealanders.
Rescue helicopters were hampered in their efforts to retrieve bodies from the island, also known as Whakaari, by the volcano's continuing volatility. New Zealand's geological science agency put the risk of an imminent eruption at 50 percent following the initial explosions.
White Island's owners, the Buttle family from Auckland, said they were left "absolutely heartbroken" by the devastating consequences of the eruptions.
Peter Buttle said: "We are all shocked by what has occurred on Whakaari yesterday and our thoughts are with everyone affected by this tragedy.
"We wish to thank everyone involved in the rescue effort, including the first responders, medical personnel and the locals who helped evacuate people from the island. Their efforts have been both courageous and extraordinary.
"That we now have had a tragic event with devastating consequences leaves us absolutely heartbroken.
"Our thoughts are with the families of those affected, as well as the wider Whakatane community."
As the Ovation of the Seas prepared to leave the Port of Tauranga on Wednesday, Captain Henrik Loy addressed passengers saying he was struggling to comprehend what had happened.
Those on board, many also struggling with the concept of continuing on their holiday cruise, said they had been touched by the actions of Kiwis who came to the port to pay respect to the ship's victims.
The ABC reports: "They were moved to tears and felt love as Maori leaders pressed their noses to the ship's officers – saying we are 'all family' at this difficult time."
While scientists have confirmed there were no indications that the volcano was going to erupt, even though volcanic activity was detected in recent weeks, prime minister Jacinda Ardern said "questions must be asked and they must be answered" over the event.
Concerns are inevitably being voiced about whether tourists should have been allowed on an active stratovolcano labelled Te Puia o Whakaari or "the dramatic volcano" in Māori.
"White Island has been a disaster waiting to happen for many years," Monash University volcanologist Raymond Cas told CNN.
"I have always felt that it was too dangerous to allow the daily tour groups that visit the uninhabited island volcano by boat and helicopter."
Another volcanologist, Shane Cronin, told the media outlet that while he supports managed tours of certain volcanos, scientific monitoring isn't yet accurate enough to make experiences like visiting White Island risk free.
"Until we get our monitoring systems – and our understanding of these systems – right, we probably need to look at whether those near-to-crater operations should carry on like they have been," he said.
Describing the island as a "pretty edgy place", he argued an increase in tour numbers over recent years meant New Zealand was "increasing your vulnerability by bringing people more frequently."
Paul Quinn, chair of the well-respected White Island Tours which has permission to take some 18,000 people a year on tours to Whakaari, said there was "nothing that signalled there was going to be an eruption" on Monday.
As the business worked to supporting those affected by the tragedy this week, it was grappling with the loss of two staff members in what Quinn described as "a big tragedy for us".
White Island Tours is left to decide on whether conditions are safe enough for island tours, but the operator also needs to comply with health and safety standards set by WorkSafe.
In the wake of the tragedy, the government regulator released a statement saying: "WorkSafe will be investigating and considering all of the relevant work health and safety issues surrounding this tragic event."
Police have confirmed they are investigating the circumstances of the deaths and injuries for the coroner but said it was too soon to confirm whether there would be a criminal investigation.