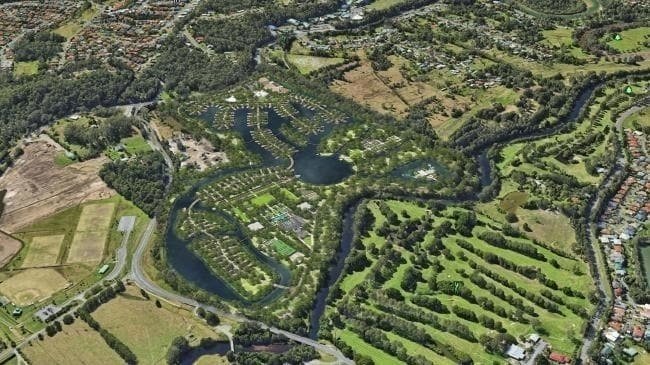 A $160 million wellness retreat and gallery planned for the Gold Coast hinterland is a flood risk and should be built elsewhere, council officers say.
Planning experts have raised several concerns about the Ridong Group's 50-hectare proposal for Tallebudgera, with councillors expected to follow their guidance and vote against approval at a full council meeting this week.
Hundreds of submissions have been made against the development application and a December public rally opposing the plan attracted more than 400 people.
Almost 3000 people have signed a "Save Tallebudgera from Developers" online petition, while more than 13,500 signatures have been recorded on a Change.org petition titled "Stop destruction of Tallebudgera Valley's Koala habitat for Chinese tourism".
Ridong, the China-based company behind the original Jewel tower plan in nearby Surfers Paradise, put in its ambitious application back in September 2018.
It aims to turn a former chicken farm at 49 Tallebudgera Connection Road into an art and sculpture centre akin to Tasmania's MONA, as part of a major tourism development encompassing a 98-room resort, 162 villas, a wellness centre, a waterfront chapel, two conference centres, three restaurants, gardens and a lake.
Council officers raised a number of concerns at an Economy, Planning and Environment Committee meeting last week, prompting committee members to knock back the application.
"The proposed development is considered to present potential economic benefits through employment opportunities and tourism related revenue," officers stated in the agenda.
"However, officers do not consider that these benefits are site specific and could be provided in a more suitable location.
"Further, the applicant has not demonstrated a 'need' for the development to be located at the subject site.
"Officers acknowledge that the proposed development includes components which could provide a benefit to the city, however, do not believe that these benefits warrant the approval of this application as officers believe such a development could be provided in a more suitable location."
Committee chair Cameron Caldwell said the council "takes a very cautious approach" to developments around the Queensland city's flood plain, saying it was "imperative" the Gold Coast maintains flood functionality and safe water flows.
If refused permission at this week's full council meeting, Ridong can appeal the decision or amend its plans for reassessment, but local opposition to such a large scale development in the hinterland environs is not going away.
"This would be a massive development for Tallebudgera which would dramatically change the local community area which is already struggling with traffic chaos, increased incidents of injuries and deaths of the local Koala and wildlife population and the potential to create increased flooding within the valley," states Neil Parker, founder of the "Save Tallebudgera from Developers" petition.
Supporter Nicola Stewart said: "Tallebudgera is a beautiful, quiet, rural, unspoilt area.
"With all the development happening on the Gold Coast – it is integral that some areas should remain untouched. Please keep the 'Valley' in Tallebudgera!!"