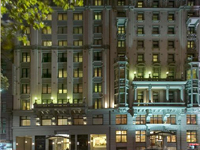 The historic Rendezvous Hotel Melbourne is well underway in the planning stages of a significant restoration and refurbishment program
as part of a multi-million dollar re-branding initiative announced by Rendezvous Hospitality Group earlier this month.
Upon completion, Rendezvous Hotel Melbourne will be renamed Rendezvous Grand Hotel Melbourne, offering superior accommodation for upscale, discerning travellers.
The restoration and refurbishment of Rendezvous Hotel Melbourne has been four years in development, with careful research, meticulous study and sensitive consideration undertaken to incorporate and preserve the unique charm, heritage and features of this much-loved, iconic building.
The refurbishment will rejuvenate the historic 1900s building and include a range of modern facilities for discerning travellers for both business and leisure. Yet the restoration and redevelopment will preserve the historic charm, intricate heritage detailing and interiors that showcase the quintessential personality of this historic Hotel that has a special place in the city of Melbourne.
Alexander Billing, Rendezvous Hotel Melbourne general manager said the refurbishment of Rendezvous Hotel Melbourne will restore the hotel to its original glory, without loss of character or its boutique ambience.
"The design aspect will not only highlight the iconic heritage of the building, but improve the overall level of guest comfort, satisfaction and experience in a superb established location," Mr Billing said. "The hotel will remain open during the entire process and we expect there will be minimal disturbance or inconvenience to our guests."
The extensive upgrade program incorporates the accommodation rooms and suites, food and beverage facilities and conference and meeting facilities. The completion of the refurbishment of Rendezvous Hotel Melbourne will be mid 2012, a significant year when part of the original building will celebrate its 100th anniversary.