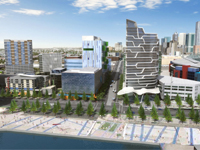 Victorian developer Digital Harbour Holdings has lodged plans for a major hotel/apartment complex views over Victoria Harbour in Melbourne's Docklands' Digital Harbour precinct.
DHH plans to build a 37-storey apartment and hotel complex that would incorporate a 176-room, 4½-star hotel, 323 one- and two-bedroom apartments plus five penthouses and five sub-penthouses.
It would include a restaurant, conference facilities and parking for 255 cars.
The Moull Murray-designed complex will cost around $300 million.
The site, 238 Harbour Esplanade, was originally slated as a business park but DHH succeeded in getting planning minister Matthew Guy to rezone the site as a residential village with apartment towers, shops and hotel.
At ground level there will be separate foyer entries to the hotel on Harbour Esplanade and residential apartments off Digital Drive adjacent landscaped open space. Both hotel guests and apartment residents will have access to restaurant, conference, gymnasium and pool facilities at the upper ground level.