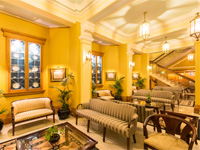 Developments
Choice adds new properties to expanding portfolio
Choice Hotels Australasia has announced it has added five new properties across New South Wales, Queensland, South Australia and Victoria to its rapidly expanding stable.
Beginning 2014 on a strong note, Choice Hotels has increased its accommodation offerings across four states building on expansion plans it announced last year. Trent Fraser, Choice Hotels Australasia's chief executive officer said the group is excited to welcome these five new sites to the Choice Hotels portfolio.
– Situated on the New South Wales and ACT border, a stone's throw away from the heart of the nation's capital, the 4 star Comfort Inn Airport International is at the gateway to Canberra city and the ACT. Just a mere seven minutes from Canberra Airport and a 15 minute drive from the Canberra CBD, it features a large selection of room styles as well as free wifi, free parking and a free city and airport shuttle bus.
– The central Sydney located 4 star Castlereagh Boutique Hotel, a member of the new Ascend Hotel Collection, is the other new NSW addition. This elegantly restored, heritage-listed property features a sandstone frontage and stunning art deco architecture. Close to all of Sydney's major attractions it provides guests with luxurious accommodation in prestigious settings.
– Expanding its Queensland offering, Choice Hotels has acquired the Comfort Inn Sugar Country Bundaberg. The newly refurbished 4 star property can be found right in the heart of Bundaberg making it an ideal base for both business and leisure travellers alike.
– The latest Choice Hotels addition in South Australia is Adelaide's Econo Lodge Adelaide City Park. A tranquil retreat in the heart of the city, this boutique style motel features spacious rooms and magnificent balconies overlooking the serene parklands of Adelaide.
– In Victoria, the latest property to join the Choice Hotels stable is the Econo Lodge Portland. Originally constructed in 1855 and renovated in a Victorian Style, the 3 star property is centrally located opposite the beach with spectacular harbour views stretching across Portland Bay.
Finally, the newly refurbished and renamed Quality Suites D'Olive is also now open for business. Located 30 minutes from Melbourne's CBD, the 4 star hotel is located on 6ha of gardens opposite the Point Cook Coastal Park. Featuring five new impressive function rooms for up to 150 guests, informal dining at the Olive Grove Restaurant and 38 well-appointed suites for stay-overs, it's the ideal destination for business or pleasure in Melbourne's western region.
Image: Castlereagh Boutique Hotel