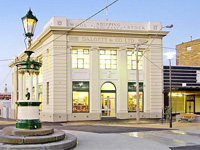 A Chinese consortium, that has not yet been publicly named, is proposing a multi-million dollar high-rise student accomodation complex in Geelong. It has spent $6 million acquiring four adjoining properties and plans to demolish three properties to make way for student accommodation.
The fourth building, the former Dalgety wool company headquarters, will be refurbished to provide serviced offices.
The total sale comprises 1913 sq m of land.
Cr Andy Richards said, "This is an important site I look forward to seeing a proposal from the property's new owners that will attract people into the CBD to live, study, work, shop and play and hopefully we see a planning application that delivers something new and innovative to sit in with the Deakin University precinct."