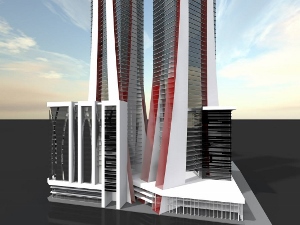 The multimillion-dollar Star of the Sea project in Southport has been given the go-ahead by Gold Coast City Council.
Developer Huixin Real Estate Group, through Australian arm Garuda GC, paid the Catholic order Sisters of Mercy $27 million for the 1.5ha site earlier this year. It is expected to become a multi-tower resort and lifestyle precinct and, among its proposed features, are residential, commercial and hotel towers, restaurants, bars and al fresco dining with a pedestrian mall connecting the development to Nerang St shopping plaza.
The GCCC has also given preliminary approval to a multistage Meron St project in Southport previously known as Imperial City. The project on a 1.3ha site on Ferry Rd is proposed by developer Rob Badalotti's Azzura International Constructions. Initial plans indicate it could consist of up to six towers, including one of more than 100 storeys.
However, Azzura favours a three-tower complex that would feature a 104-storey super high-rise as well as two small towers of 85 and 75 levels respectively. The towers would have 2200 units, a 200-room hotel and a 200 student accommodation rooms.
The development could tower over Southport as early as 2019.