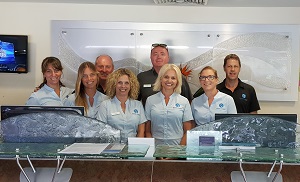 Noosa Lakes resort sits opposite the Noosa River on the magnificent Sunshine Coast. Surrounded by nature, the property is positioned on seven landscaped acres by the shores of Lake Doonella, just minutes from the beach and Noosa's many charming attractions.
Located adjacent to the property is the beautiful Noosa Marina, which provides guests with direct access to restaurants, cafes, river and lake cruises, deep sea fishing, wine bar, day spa, boat hire and a ferry service that offers access via the sublime Noosa River to the famous Hastings Street.
The resort also features The Noosa Convention and Exhibition Centre, a dedicated facility catering for up to 300 delegates. The resort's self-catering dual-key apartments are clean affordable and family-friendly with three magnificent lagoon pools and welcoming staff. This is an ideal place for a fun family vacation.
The management rights are owned by three families all of whom have an input in the day-to-day running of Noosa Lakes and its sister resort Noosa Blue. Jason Chisholm, his wife Lynda and their two children live onsite as the managers.
Jason and Lynda have a total of 16 years' experience in the accommodation industry, previously operating in the Gold Coast and Tasmania. Prior to Noosa Lakes, they were the owner/operators of a motel and conference room in Tasmania for eight years, only moving 12 months ago to join forces with this management team that includes: Russell and Belinda, plus Liam and Adelle from Noosa Blue. Jason affectionately bestows the moniker of "A team" on the family business. Be warned: this "A team" aims to take on the coast!
The three families involved in the "A Team" are great friends who have worked together previously. "We purchased the management rights on the back of a TAB ticket at the Reef Hotel, while washing down a bit of crispy salmon with a nice cold Corona," joked Jason.
What makes a good resort manager? "I think you need to be a good listener and have excellent problem solving abilities. The ability to read people quickly and work out how to deal with situations are the superpowers that are required here!
"I get a lot of satisfaction knowing that our guests have enjoyed their experience, our owners are getting good returns on their investment and the Resort is kept in tip top shape," Jason told us.