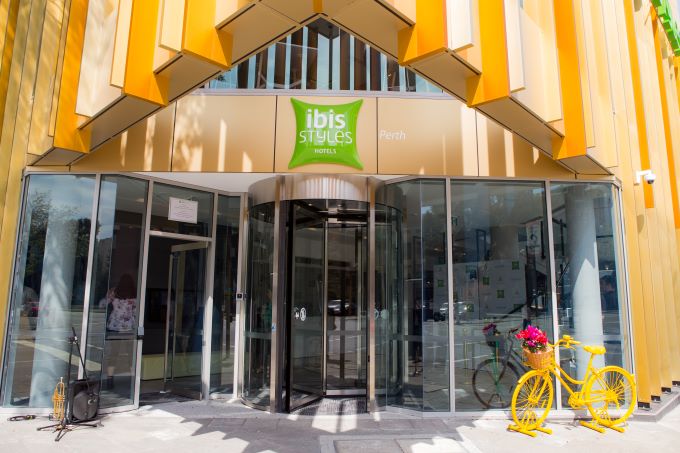 The world's largest high-rise modular hotel, the new ibis Styles East Perth, was launched in September, playing an important role in Perth's exciting transformation.
Accor, the largest operator of hotels and resorts in Australia, teamed up with Rehawk Property Group to break records and create this outstanding property.
Sticking to the signature distinctive hotel design of ibis Styles hotels, the fresh and fun economy brand has chosen to embrace the rising modular construction trend with this remarkable new accommodation offering.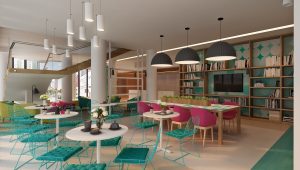 Innovative construction techniques were used, resulting in entire rooms being built in modules offsite and constructed like pieces of Lego onsite.
This method took half the time of a usual building project, which is another reason why prefab and modular construction is, and will continue to be, a growing part of future strategic construction initiatives. It is a building method perfect for a growing accommodation industry.
Accor Pacific's chief operating officer, Simon McGrath, told us: "The economy hotel sector is rapidly changing in Australia with our economy hotel product becoming vastly different from where it was even a decade ago.
"Guests are increasingly sensitive to the aesthetics of a hotel space and to the sensations stirred by design elements: they expect more than just 'accommodation'.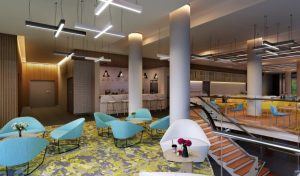 "Accor is leading the way in delivering design-lead economy hotel product, ibis Styles East Perth will cater to a growing demand for quality, design and comfort at an affordable price."
The ibis Styles East Perth adds 252 guest rooms to East Perth's expanding hotel supply and spans 18 floors, beating the world's current tallest modular hotel in terms of room numbers offered. It is ideally located near Optus Stadium and a short walk to the WACA, making it the perfect destination for sports and live music fans.
Functionality is at its core, presenting practical, well-designed rooms that welcome a range of guests from business travellers to families. All the guest rooms have been well-appointed digitally, including free wifi, Chrome Cast, USB and HDMI connectivity and USB charging.
The design focus is quirky and delightfully playful, with every room uniquely styled and brought to life with splashes of vivid colour. Creativity and playfulness are the hallmarks of this comfortable, stylish hotel which perfectly complements the ibis styles brand, but it also exudes its very own unique charm.
General manager Tom Cykowski told AccomNews: "Ibis Styles East Perth has many unique points of difference above and beyond being the world's largest modular high-rise hotel. It also offers bunk beds for travelling families (a hotel rarity), an independent restaurant that opens to both guests and the public.
"The hotel has strong ties to the local community, being involved with a surprise breakfast for corporate partners the East Perth Community Group. Hotel staff have also abseiled the Central Park Skyscraper for Ronald McDonald House Charities WA and are involved with the Magic Coat (programs for children)."
We asked the Tom: what is your personal favourite feature of the hotel?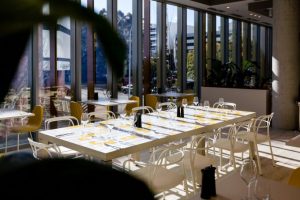 "That would be Eastside Social – the hotel's independent bar and restaurant. Eastside Social is open from 6.30am to 10pm and highlights the importance of keeping it real with a hefty dose of charm," he said.
"The menu is bursting with nutritious, wholefood dishes packed with super foods and soulful flavours. The restaurant offers grab-and-go options alongside dine-in meals for both guests and the public.
"Some of the favourite menu items include the ricotta gnocchi with pumpkin cream, broad beans, kale and smoked almonds, nasi goreng with pork belly and the Atlantic salmon and brown rice salad."
What was the most important thing to get right before you opened?
"The most important thing to get right was making sure guests have the best experience possible. This was done through a soft opening a week prior to the launch for families and friends to iron out any possible issues and to fine tune the hotel's processes and staffing."
Finally, what has the reaction been from staff and guests to the hotel?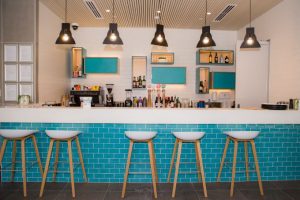 Tom revealed: "The local East Perth community are ibis Styles East Perth's biggest fans, with many locals really excited to have a brand-new hotel in East Perth where they can grab a coffee with their friends, work from the public co-working spaces and stay right in the heart of East Perth for a super-affordable price.
The ibis Styles East Perth staff love the new product and have been working together as a team to showcase the hotel."
Sweet dreams are made of these
Sleepmaker supplied the ibis Sweet Beds to ibis Styles East Perth.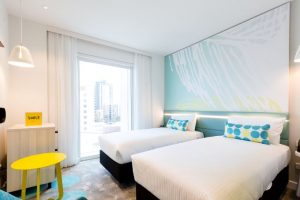 Sleepmaker worked with Accor to develop the ibis Sweet Bed with specifications for Australasia and it was launched in 2012, with the initial roll out of more than 2000 ibis Sweet Beds part of the ibis mega brands roll out, initially to ibis hotels only.
The Sweet Bed was so well received it was then decided to roll out to all the ibis brands – ibis/ibis Styles/ibis Budget. With the success of the ibis Sweet Bed, Sleepmaker has supplied over 6000 ibis Sweet Beds to ibis hotel brands across Australia and New Zealand in the past five years.
The ibis Sweet Bed consists of three pieces – a topper, a mattress and a base specially developed for ibis hotels.